Churches of Christ & Christian Churches
in the Pacific Northwest

STEVENS COUNTY, WASHINGTON




Oct. 8, 2009
by Charles Dailey
College index
Cedonia Colville Enterprise

Next Chapter . . . Pioneer Menu . . . Search - - Oldest presented first.
---
Cedonia
Map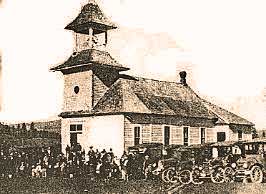 Cedonia Christian Church
built about 1897

Cedonia's name was thought to have been based on a Hebrew word from the Scriptures.

In 1897, thirty-year-old George Edward Cornwall decided that Cedonia needed a place to worship, so he raised some funds and conscripted some 114 days' labor. Along with his father and two brothers, J. J. and Lewis, they put up a building free of debt.
The Cornwall family group is buried at the Cedonia Community Church Cemetery.
The photo was taken after the men bought tin-lizzies, but the building dates from an earlier time. The photo came from the archives of Spokane University, now in storage at Northwest Christian College Library in Eugene, Oregon.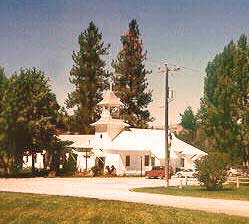 Cedonia Community Church


At the first, it was a community church, but quickly became a Christian Church with 50 charter members. They observed the Lord's Supper each first day of the week and continued this for at least 45 years.

Sometime in the middle of the 1900s, the church again became the Cedonia Community Church. The old orginal structure can be seen as the centerpiece of the current building.

Enterprise Map

A church at Enterprise reported in the 1897 list of Christian Churches by Orval Peterson. No other record exists. The only known church building in the area was Presbyterian, and that was sold as a Grange Hall.

Following patterns elsewhere, the church met either in a member's home or in the local school building.

Colville Map

Sometime early in the 1900s, a group of Christian began meeting in Colville, and by 1908 they had a constructed a building at the SE corner of Hooker (N. Oak) and Sophia (E. 2nd).
Colville Christian Church in 1908



Orval Peterson says the church was organized by J. A. Pine in 1908, but organizing must mean appointing elders and deacons. The group had been meeting for some time in order to build such a nice-for-the-times building. The name of S. C. Griffin needs to be connected with 1905 as well.

From 1908 to 1910 Wesley A. Diggins was leading the group. An article in the Statesman-Examiner of 11/20/09 reports that Professor William R. Baird would be singing at both the morning and evening service.

Early Ministers:
Taken from a folder published by the church.
S. C. Griffin
J. A. Pine
C. C. Lemon
George Thompson
J. P. Dodson
W. L. McIlvanine
W. H. Ware
C. Gillam
George E. Marley
O. J. Gist
Wesley A. Diggins
L. Brooks Harris
Ortis D. Harris
George W. Morgan
H. C. Harmon
1905
1905
1906
1907
1907
1907
1908
1908
1908
1908
1908 - 1910
1910 - 1913
1913
1913 - 1914
1914
It was customary in this era for the minister and the church to sign a contract specifying how long the minister's term of service was to last. One year was a common contract length, but sometimes crop failures and other pressures would restrict the contracts to as little as three months. This may account for the very short term of service seen by the earliest ministers of this congregation. The minister may have left after his contract, seeking more stable employment in some other church.

Kenneth Edwards was leading the church in 1945.

---

Next Chapter: Thurston County or back to Pioneer Menu